Description:
This time they have also deployed a team of healing priests. Hang in there.
Task Objective - Defeat :Priest*3, Archer*3, Footman*6, Troll*5
Task Reward - 450 Gold, 90 Crystals, 200 Exp, 1 Shaman
Enemy Line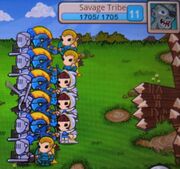 Suggestion Berserker:
Hero Level: 3 (580HP, 21 Attack and 2 Defense)
Used Items: silver set
Used Spells:?
- Formation -
Lost: 1 footman
  A N T F


A N T F
A N H H F
A N H H F
A N T F
A N T F
Suggestion Behemoth:
Hero Level: 4 (800HP, 19 Attack and 3 Defense)
Used Items: Starting Set
Used Spells: Shattering Strike
| | | | | | | |
| --- | --- | --- | --- | --- | --- | --- |
| X | X | X | Archer | Ninja | Troll | Footman |
| X | X | X | Archer | Ninja | Troll | Footman |
| X | X | X | Archer | Ninja | Hero | Hero |
| X | X | X | Archer | Ninja | Hero | Hero |
| X | X | X | Archer | Ninja | Troll | Footman |
| X | X | X | Archer | Ninja | Troll | Footman |
Lost: 2 Footman
Suggestion Succubus:
Hero Level: 5 (380 HP, 20 Attack, 1 Defense)
Used Items: Ivy Set
Used Spells: none
x
x
Archer
Archer
Ninja
Troll
Footman
x
x
Archer
Archer
Ninja
Troll
Footman
Succubus
Archer
Archer
Ninja
Troll
Footman
Archer
Archer
Ninja
Troll
Footman
x
x
Archer
Archer
Ninja
Troll
Footman
x
x
Archer
Archer
Ninja
Troll
Footman
Lost: 0*Footman
(Grenock 13:27, March 28, 2012 (UTC))
Other Tasks: