Description:
Priests are very weak units. They don't have helmets or armor and must be put behind other units.
Task Objective - Defeat :Priest*5, Archer*7, Footman*12, Troll*12
Task Reward - 750 Gold, 150 Crystals, 240 Exp, 1 MOJO
Enemy Line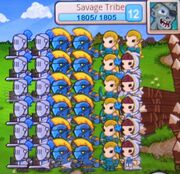 Suggestion Berserker:
Hero Level: 3 (520HP, 20Attack and 3 Defense)
Used Items: ?
Used Spells: Shattering Strike 
Formation :
x  Archer  Archer  Ninja   Troll  Footman
x  Archer  Archer  Ninja   Troll  Footman
x  Archer  Archer  Ninja   Troll  Footman
x  Archer  Archer  Priest  Hero Hero
x  Archer  Archer  Priest  Hero Hero
x  Archer  Archer  Ninja   Troll  Footman
x  Archer  Archer  Ninja   Troll  Footman
Lost: 5 Footmens and 5 Trolls 
Suggestion Behemoth:
Hero Level: 4 (780HP, 19 Attack and 3 Defense)
Used Items: Iron Set
Used Spells: Shattering Strike
Archer Archer Ninja Troll Footman
Archer Archer Ninja Troll Footman
Archer Archer Ninja Troll Footman
Archer Archer Ninja Troll Footman
Archer Archer Ninja Hero Hero
Archer Archer Priest Hero Hero
Lost: 1 Ninja, 4 Trolls, 4 Footman Yueyen 15:46, May 17, 2012 (UTC) 15:44, May 17, 2012 (UTC)
All priests
Other Tasks: