Description:
With the support of our priests, our army has become unstoppable!
Task Objective - Defeat: Priest*6 Archer*6 Shaman*3 Knight*2 Succubus*1
Task Reward - 2000 Gold, 400 Crystals, 340 Exp, 1 MOJO
Enemy Line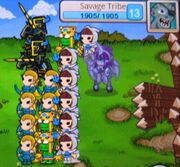 <- Succubus used the following two spells: Archer Spirit and Scourge of Doom.

Succubus has a +1 Hp/sec regeneration and wears a full Unicorn-Set.
Suggestion Berserker:
This formation works as long as you have priests
Hero: 590 HP, 22 Attack, 4 Defence.
Used Items: T1
Used Spells: Shattering Strike
x
x
x
Archer

Priest

Hero
Hero
x
x
x
Archer

Priest

Hero
Hero

x             x

x             x

x
Archer
Archer
Priest
Footman
x
Archer
Archer
Priest
Footman
x
x
x
Archer
Archer
Priest
Footman
x
x
x
Archer
Archer
Priest
Footman
Losses: None
NightSkyShadow
---
Hero Level: 4
Used Items: T1
Used Spells: Spirit of archers + footmen, Shattering Strike
Archer
Archer
Ninja
Troll
Troll
Troll
Footman
Archer
Archer
Ninja
Troll
Troll
Troll
Footman

Archer Archer


Archer Archer

Priest
Hero
Hero
Troll
Footman
Priest
Hero
Hero
Troll
Footman
Archer
Archer
Archer
Ninja
Troll
Troll
Footman
Archer
Archer
Archer
Ninja
Troll
Troll
Footman
(Krattos; Fort lvl 11)
Lost: 6 foot men, 5 trolls
---
Hero Level: 4
Used Items: 
Used Spells: Shattering Strike
x
Archer
Archer
Archer
Ninja
Troll
Knight
x
Archer
Archer
Archer
Ninja
Troll
Knight

x               Archer


x               Archer

Priest
Hero
Hero
Troll
Footman
Archer
Hero
Hero
Troll
Footman
x
Archer
Archer
Archer
Ninja
Troll
Footman
x
Archer
Archer
Archer
Ninja
Troll
Footman
(PsychoCemia; Fort lvl 13)
Lost: 1 knight
Suggestion Behemoth:
Hero Level: 6 (810 HP, 16 Attack, 5 Defense)
Used Items: Tier 1 Behemoth Iron Set, Armor of Fury
Used Spells: Shattering Strike
Archer(2)
Archer(2)
Priest(2)
Knight(2)
Archer(2)
Archer(2)
Priest(2)
Behemoth
Archer(2)
Archer(2)
Priest(2)
Archer(2)
Archer(2)
Ninja(2)
Priest(2)
Footman(3)
Archer(2)
Archer(2)
Ninja(2)
Priest(2)
Footman(3)
Archer(2)
Archer(2)
Ninja(2)
Priest(2)
Footman(3)
Lost: -
Suggestion Succubus:
Hero Level: 6 (435 HP, 20 Attack, 1 Defense)
Used Items: Ivy Set + Cute Nurse Outfit
Used Spells: Blue Blast
Archer
Archer
Archer
Ninja
Troll
Footman
Footman
Archer
Archer
Archer
Ninja
Troll
Footman
Footman
Succubus
Archer
Ninja
Troll
Footman
Footman
Archer
Ninja
Troll
Footman
Footman
Archer
Archer
Archer
Ninja
Troll
Footman
Footman
Archer
Archer
Archer
Ninja
Troll
Footman
Footman
Lost: 7*Footmen
(Grenock 08:19, April 3, 2012 (UTC))
Other Tasks: