Description:
Use shamans to speed up out troops so that they can penetrate any defense.
Task Objective - Defeat: Priest*6 Archer*12 Footman*12 Shaman*3 Troll*6
Task Reward - 1900 Gold, 380 Crystals, 320 Exp, 1 MOJO
Enemy Line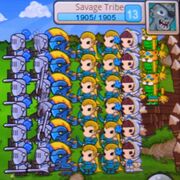 The three Shamans in the background are useless, because they don't speed up the Priests.
Suggestion Berserker:
Hero Level: ? (?HP, ? Attack and ? Defense)
Used Items: ?
Used Spells:?
- Formation -
Lost: ?
Suggestion Behemoth:
Hero Level: 4 (780HP, 20 Attack and 3 Defense)
Used Items: Iron/Fury Set
Used Spells: Shattering Strike
x x Archer Archer Ninja Troll Footman
x x Archer Archer Priest Hero Hero
x x Archer Archer Priest Hero Hero
x x Archer Archer Ninja Troll Footman
x x Archer Archer Ninja Troll Footman
x x Archer Archer Ninja Troll Footman
Lost: 4 Trolls, 4 Footman and 1 Ninja Yueyen 13:59, May 18, 2012 (UTC)
Suggestion Succubus:
Hero Level: 6 (435 HP, 20 Attack, 1 Defense)
Used Items: Ivy Set + Cute Nurse Outfit
Used Spells: Blue Blast
Archer
Archer
Archer
Ninja
Troll
Footman
Footman
Archer
Archer
Archer
Ninja
Troll
Footman
Footman
Succubus
Archer
Ninja
Troll
Footman
Footman
Archer
Ninja
Troll
Footman
Footman
Archer
Archer
Archer
Ninja
Troll
Footman
Footman
Archer
Archer
Archer
Ninja
Troll
Footman
Footman
Lost: 8*Footmen
(Grenock 07:51, April 3, 2012 (UTC))
Other Tasks: